Oratorical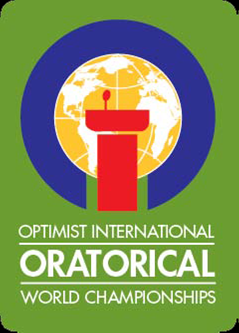 The Clarkston Optimists Oratorical Contest will be held in March at the Clarkston Junior High School. The topic this year's speeches is "What the World Gains from Optimist".
The contest is open to 7th grade students through seniors under the age of 18 by October 1, 2016.
Club winners receive a certificate of participation plus the first place boy and girl winners receive $200, second place boy and girl winners receive $100 each, and the third place boy and girl winners receive $50.
Students who place, first, second and third place are invited to the Clarkston Optimist Club for a breakfast with their parents and they give their speeches.
The first place winners go on to the Area Competition. The boy and girl that take first place at the Area Competition will advance to the Michigan District/State Competion in May.
The Michigan District (state) competition male and female winners receive $2,500 scholarships.
One winner of the Michigan District will go forward to the Northeast Optimist District
and compete for a $5,000 scholarship. The winner of the Northeast District will compete at the World Competition in St. Louis in June for a $15,000 scholarship for first place.
Students will need to complete the application and return it to your school office or send it to Clarkston Area Optimists, P. O. Box 891, Clarkston 48347 by March 4, 2016. Students will be judged on the rules for the oratorical attached to the application
The website for rules and application for the Oratorical Contest is: http://www.optimist.org/e/member/scholarships4.cfm